There are a handful of items players may acquire to assist in their adventures:
Boat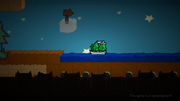 Both players cooperate and drive the boat in one direction. This will speed up the course in which you're traveling.
If you both choose separate directions, the boat will remain dead in the water, along with your chances of completion.
Wings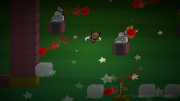 Control how and when you flap your wings.
Flap faster to get away from enemies, float for a zen state of mind or soar through the clouds to get your shiny gems and balls of yarn!
Boulder
Boulders which can be carried and used to activate Invisible Bridge pressure plates.
Fan-jetpack
 *Used to temporarily fly upwards after pressing jump once.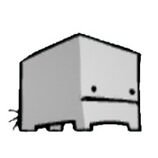 Horse
 *A block shaped animal that can be used to ride across spikes and water. Can also
Do a backwards kick to hit other players or enemies.
A forward kick to directly hurt enemies.
Jetpack
Gives large upward boosts by repeatedly pressing jump.
Baby Yak
A small block shaped animal that floats side to side until it comes into contact with a solid block or a prisoner.
External links
Community content is available under
CC-BY-SA
unless otherwise noted.